B-Side | DJ Mixing Workshop
Dates: 12th to 22nd October 2022
Venue: Satori Wellness, Arambol, Goa
Workshop Facilitated by : Vridian
B-side is an initiative by Serendipity Arts centred around independent music and cultural currents stemming from contemporary music practices. The programme strives to spark conversations around music production, DJ-ing, research, performances, educational modules, and collaborative sonic explorations focused on emerging acts around South Asia.
The role of the DJ in modern society has evolved, much like the craft associated with it. From the humble position of the disc jockey at the radio station in the '70s, to the almost cult status we see today; from playing limited edition pressed vinyl in warehouses in the '80s to the sophisticated technology we have available now, there has been a huge shift in the way we perceive and experience music mixed and played by DJs.
In India, it has become a more than respectable profession as opposed to the "DJ for Hire" tag that earlier surrounded it. Of course, it's taken quite a lot to get to this point – and as a part of B-side, we get to relive it all.
This workshop lays heavy emphasis on practical know-how, because of which participants will learn to navigate their way around mixing on turntables, CD players (and USB), and even laptops, with access to club/event ready gear. A DJ also has to do plenty of homework related to music research, finding songs, practice and file management– all of this will be touched upon in detail. The workshop will include guest lectures from relevant figures in the industry who will share their insights from years of expertise in the domains of performance, venue programming, and artist management.
Join us as we traverse different workflows, gear, and techniques while also taking a deep dive into electronic music culture and its history. Regardless of proficiency in music theory and technology, this course is open to everyone.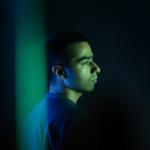 VRIDIAN is an electronic music project based out of New Delhi, India. Being the alias of music producer Vir RC, this project has a penchant for atmospheric, emotive and groovy electronic music. Inspired by a wide range of musical influences, VRIDIAN has released on imprints such as Manjumasi,Traum Schallplatten, Qilla Records, Nie Wieder Schlafen & Dream Culture. With a passion for the craft of (appropriate & situational) DJing, the project has also become a regular feature on club bills across the Indian sub-continent. VRIDIAN's releases have gained active support from the likes of Atish, Frankey & Sandrino, David Hohme, Kohra, Tim Penner & Mark Slee. His catalogue also boasts stellar remixes of his music from some of the best in the game, such as Clarian & Tim Engelhardt.
1.Is there an age eligibility for the workshop?
Yes, applicants must be 21 to 40 years of age to apply.

2.What are the dates for the workshop?
The workshop will be held between 12th October to 22nd October 2022

3.Do I have to be a Musician/DJ to apply for the workshop?
No, the workshop is open for all.

4.Do I have to be an Indian citizen to be eligible?
Yes the workshop is open to Indian citizens only.

5.Where is the workshop going to be held?
The B–Side workshop will be held in Goa. Exact venue shall be shared after selection.

6.How many participants will be selected?
10 participants will be selected for the workshop by a Jury.

7.Would I have a place to stay?
Yes, all the participants will be provided with a shared accommodation space, along with a meal.

8.What does the schedule of the workshop look like?
Sessions will be scheduled through the 10 day workshop which includes lectures, practical sessions, artist presentations and demonstrations leading to a showcase towards the end of the workshop.

9.Will my travel to Goa be covered?
No, you have to cover costs for travel to and from Goa.