As we have meandered through the past three weeks, stumbling into the pangs of separation, the invasion of complex, mangled feelings—exhaustion, heartache, worry, resilience, kindness, anger, empathy—has connected us in new ways. 
This week we present glimpses of collectivity in history, that continue to seep into and enrich our present. We showcase writing that unravels the courageous narratives of voices from the margins, captured through the alchemical medium of photography; a project that showcased the confluences of music and solidarity through the medium of songs; a dance performance that rises like an anguish, a deep, enveloping cry against injustices wrought on the female body; a critical travelogue through colonial methodologies of writing the South Asian dancing body; a virtual reading group that is reiterating learning as a shared, collective activity; a design studio that is reclaiming ownership of skills otherwise extracted as surplus labour in a caste-based economy.
We request you to speak to us, even as we have turned to you these past three weeks. We thank you, for your companionship, for your patient listening, for your resolve to stay together. 
Other Photography Histories
An extract from the essay featured in Projects / Processes Vol. 1, (HarperCollins India, 2019) which discusses the exhibition "Ephemeral: New Futures for Passing Images," curated by Rahaab Allana and showcased at Serendipity Arts Festival 2018.
From the curatorial note 
As images diversify across the globe with the expansion of digital media, this exhibition foregrounds works unearthed in the recent past, others commissioned, which invoke elided histories of production. Ephemera—found images, everyday objects and hidden archives—all provide tangible links to creative practices and the craft of making. In the present however, which images do we acknowledge as enduring testimonies, worthy of preservation and critique? This display explores the contours of location, language, authorship and even ethnicity that present critical vectors through which practitioners, archivists and curators may unpack alternative or "other" histories, casting new light on certain visual typologies.  
From the essay 
Two of the works that were meant to present contrast and parity were the works of [Uzma] Mohsin and the Dalit archive [Nepal Picture Library]. Mohsin's newly produced archival work straddled crucial political terrains and social predicaments in present-day South Asia. The interwoven, stratified schematic of her crosshatched negatives reveals a persistent and absorbed engagement with personal, official and humanist elements around the imagery of protest and activism in an urban fold and interrogates whether the archival document is limited to history or the present. 
This aesthetics of resistance, dissent and resilience on the very faces/bodies of the protestors suggest that, sometimes, to take such a position comes from a certain transparency: from filing a claim and naming the persecutor. Consequently, these intricate montages produced in analog by layering testimonies—also seen in the animated projection—communicate how the poetics of media can be used to accentuate "positions" in an increasingly self-aware world.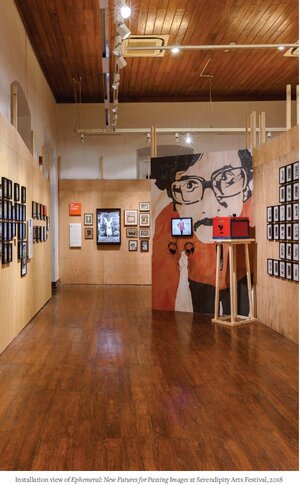 Mohsin's project started with an RTI for the release of affidavits and other official documents relating to the practicalities of galvanising a protest in the city. It went on to explore how regimes of adversity, censorship, atomisation and trampled civil rights were being contested by the people as they look at the viewer through a veneer of blurring filters: the screening of official records. Ranging from pleas and petitions for Dalit rights, land and labour laws, disappearances, to citizenship claims, among many other subjects, these tableaux present, in their very ethics of disclosure, an atlas of protests everywhere. The work drew upon a larger thesaurus of pre and post-Independence protests that have occurred in the country: those which have historically contested colonial forces; to present day conflicts and pogroms emerging from state intervention, majoritarianism and identity politics. With a mottled history of rights and liberties in the country, such "evidence" presents a kaleidoscope of claims and counterclaims: the varied dimensions of social movements that are wrought on the faces of the protestors, as the images themselves demonstrate, and even retaliate against oppression.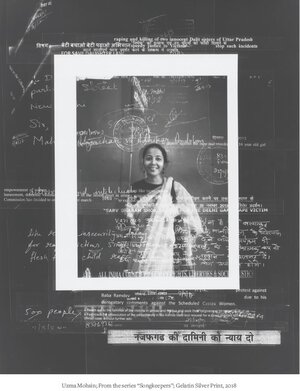 The regained gaze of the vigilant citizen here helps to imagine freedoms beyond the haze of the red-tape and bureaucracy; beyond the procedural, as we all are witness and bear witness to one another. And it is this act of witnessing that becomes overtly pronounced through the published volume of the archive Nepal Picture Library, looking at a visual history of Dalit families from Nepal, authored by Diwas Raja KC [1]. Displayed as a montage of encounters, events and activists who have driven the cause, and whose histories have been pieced together through meticulous archival research, the pitfalls of caste and class come to bear even through social movements that have garnered momentum over time, the very body of those condemned by the state, and the objects which mark their presence in society. Collated by Nepal Picture Library,
these photographs sought to intervene in the imbalances of historical representation and to address the demands made on history by marginalised and excluded communities. 
The politics of exclusion and then inclusion allowed for further juxtapositions to be drawn out within the exhibition. This presented the possibility of selecting ubiquitous visual forms that had thus far received their due, both in history and the modern turn of photography generally, presenting, as author Daniell Gifford points out, "image-based conversations between specific networks and communities of people, and among the first social objects to undo longstanding geographical, social and psychological boundaries." [2] 
[1] For extended reading, see Diwas Raja KC, ed., Dalit: A Quest for Dignity (Nepal Picture Library, 2018). 
[2] Omar Khan, Paper Jewels: Postcards from the Raj (ACP and Mapin, 2018). This publication is produced in conjunction with the travelling exhibition at Dr. Bhau Daji Lad Mumbai City Museum (August 2018), Art Heritage Gallery, New Delhi (October 2018) and Serendipity Arts Festival, Goa (December, 2018). 
*To read the essay in its entirety, kindly visit the Amazon links for Projects/Processes shared in this newsletter to purchase this, as well as other volumes focused on research and writing around Serendipity Arts Festival. 
ARCHIPELAGO ARCHIVES EXHIBIT #5: there I have been
An excerpt from the Archipelago Archives, which was performed by Kiran Kumar, an interdisciplinary artist, researcher, and writer, as part of Connecting Realities: A Symposium on Theatre and Its Realities curated by Anuja Ghosalkar and Kai Tuchmann at Serendipity Arts Festival 2019.
Kiran Kumar shares a recent essay-travelogue, "not least for these times of paralysed mobilities.. but perhaps more so for the questions it raises for our lives at the other end of these times."
FICA Virtual Reading Group
We are excited and proud to share the intent and deliberation behind The Foundation for Indian Contemporary Art's (FICA) Virtual Reading Group. Read on to find out how FICA's iconic Reading Room has adapted to the mandate of learning collectively, even in times of social distancing. Sukanya Deb and Annalisa Mansukhani, Programme Officers at FICA, take us through the promises and challenges of situating reading in virtual
FICA has sought to enable, mediate, enliven and augment acts and practices of reading, within and outside of our physical space. With the FICA Reading Room and Project_Space closed during the nation-wide lockdown, we felt it necessary to establish a continuity through our virtual presence, taking this opportunity to think through and respond to the peculiarity of the contemporary moment that we are witnessing. 
For our introductory session, it made sense to harness the relatively easy accessibility of social media, along with the transient yet wide-ranging capacity of the 'Live' feature that Instagram offers. We are hoping to eventually formalise the reading group to be more sustainably interactive, where the platform is a shared space of speculation over the presentation format. Our chosen format of email threads continue along this same tangent – they are not particularly intrusive and allow the reader to develop a relationship with the readings at their own pace, and for conversations in lengthened form. We feel like it's also easier for us to convey longer listicles, engage further with audience suggestions and recommendations over email.   
Our intention was to be able to create a scaffolding for critical reading practices that would help us articulate and engage with topics that hold certain gravity today, and in turn, fascinate and/or discomfort us. We're interested in exploring critical literature that is at the intersection of the arts, politics and culture, tying together writing that is relevant to what we as a community are feeling, thinking and working on, seeking new modes of engagement/ participation and multiplicity in perspectives.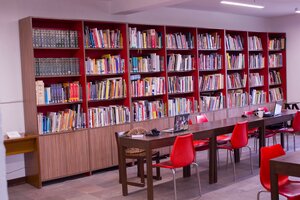 We find ourselves curating texts that we see befitting to conversations we are having – texts that inspire us and continue to unravel with deeper readings.  
The FICA Reading Group has been in the works for a while now, but the contemporary moment has mobilised us to seek affirmation, solidarities, criticality and reflection, attempting to form vocabularies around present-day anxieties and phenomena through acts and processes of reading.  
Anna: We have a lot left to learn in terms of building new formats of accessibility and knowledge-sharing, and we're hoping to improve over time as we explore new platforms! We're grateful for the response and the viewership we got with our first session, and it is reaffirming to know that these are solidarities waiting to be formed. Sukanya and my interests have been formative in the sense that we were able to soundboard off of each other, find overlaps, find confidences and intrigue in things that we were familiar with. Even within such familiarities with texts, concepts and decodings, there is a lot to unpack. With new readings, we're being able to form new opinions, and I look forward to delving deeper into uncharted territory.  
Sukanya: The mode of engagement through the virtual reading group has been somewhat limited so far, due to us being in process of figuring out the most effective medium for collective readings to take place. While we are currently working with the Instagram Live format, which is interesting in itself due to its reach and accessibility, I'm also looking forward to engaging with collective processes of reading, that allow for non-hierarchical discussion and thought, where Anna and I would be curating and facilitating, rather than lecturing, so to speak. We're also keen to keep the format flexible and be vigilant > complacent with the work we are doing here. 
Showcased at Serendipity Arts Festival 2019
Movements have a tendency to cut across all language and semantic barriers. Delicate themes including erotica or child marriage can be expressed by evoking the right mood. Be it, during the independence movement or reformation, the performing arts idiom has always been in use as an important tool in the society to strike the right chord with the audience.  One such movement piece – Red Dress Waali Ladki by Diya Naidu spoke about violence against women. This performance was showcased at Serendipity Arts Festival 2019.
About the Project
Red Dress Waali Ladki was born out of the Diya Naidu's response to the brutal crimes against women in India. Through the research and introspection that went into making the work, she decided to talk about the layered, subtle experience of the woman, who is seemingly liberated but constantly carrying fear in her body. Through the performance, she asks: Where does this patriarchal penetration locate itself? If 'her' rape is 'my' rape, can my bliss be hers too? Can men be invited as equals into this? The work is an ongoing (failing) research. Not scientific per se or even just physical; not even restricted to the laboratory (in this case studio). It will probably never stop. But one can hope. It began in 2014 and now is a non-performance of itself. Those who witness it, will in some way carry it within them.
People's Music was showcased as part of Serendipity Arts Festival 2017, and curated by Sumangala Damodaran. A sound and visual experience, the project showcased the multi-layered histories of narrating social change and movements through the medium of song.
Curator Sumangala Damodaran 
Design Sudhanva Deshpande 
Animation Shaaz Ahmed 
With assistance from Inderjeet Singh
About the Project
We create music when we are happy. We create music when we are sad. We make music to accompany work. We make music for relaxation. There is music that brings entire communities together. There is music that only the truly sophisticated aficionado can appreciate in all its subtleties. There is no feeling that music cannot convey. There is music for every occasion. Including protest and resistance. 
This sound, graphic and animation installation presents music of protest, resistance and social engagement over the last 80 or so years. People's Music showcases material from different languages and regional contexts on everyday concerns of livelihoods, work, hunger, strife, war and conflict. From Ravi Shankar's moving music for the 1946 film Dharti ke Laal (the only film produced by the Indian People's Theatre Association), to Makhdoom Mohiuddin's soulful anti-war song; from songs of Bangladesh's Bhasha Andolan (Language Movement) to Iqbal Bano's stirring rendition of Faiz Ahmed Faiz's Hum Dekhenge; from Paul Robeson's magisterial Ol' Man River to Sambhaji Bhagat's foot-tapping Lafda Kai Ko Re, People's Music is an experience to enjoy and be inspired by.
Chamar Studio was showcased as part of the exhibition Look Outside This House, curated by Sudarshan Shetty. The exhibition presented indigenous inventions and informal industries that have origins in catering to real-life circumstantial needs with lasting social impact on communities at large.
About the Project
Chamar Studio, a design space, is mobilising the Chamar community and utilising their traditional skills to produce fashion accessories with eco-friendly materials. Chamar Studio believes in putting the craftsman first; trusting their centuries-old experience, while keeping an eye on the future with special attention to sustainability and ethical production. 
Thank you all for taking time to create at home with us! We had a fantastic time watching and reading your submissions. Please check out your one second in quarantine, and stay tuned for features on select flash fiction submissions!
The Projects/Processes series commissions research essays, longform writing, and in-depth criticism that explore the ideas and processes behind select curatorial projects at Serendipity Arts Festival. Get a copy of the 2018 series, published by Harper Design by clicking on the links below.
Missed the Serendipity Arts Festival last year? Catch some highlights here!
Serendipity Recommends | Recipes
Can't figure out what to make for dinner? Check out some suggestions and recipes from the SAF Team!
Catch up on the first track from the Serendipity Soundscapes 2019 collection, titled Dil ki Baatein: Affairs of the Heart in Song, curated by Aneesh Pradhan and sung by Shubha Mudgal. The selection of Hindi poems set to tune specially for Dil ki Baatein hopes to bring to the listener a variety of expressions of love that have found place in poetry. The song, "Piyaa" is sure to fill your evenings with a soulful energy as Shubhaji's powerful voice chimes in.